Cure Leukaemia are thrilled to announce that global sports gaming provider, Flutter are the new headline partner of Cure Leukaemia's flagship event, "The Tour 21" for the 2023, 2024 and 2025 editions of the £1million fundraising event.
The partnership will see the Flutter logo become part of the event identity, showcased throughout the event and proudly placed across the front of the exclusively-produced rider jersey from Tour de France Official Kit Supplier, Santini.
The Tour 21 in partnership with Flutter, takes place one week ahead of the professional race and sees a team of 19 amateur cyclists aiming to complete all 21 stages, over 3,000km, of the iconic Tour de France raising in excess of £1,000,000 for the charity and funding globally significant advances in blood cancer treatment. The 2023 event takes place from Friday 23rd June, starting in Bilbao, before finishing in central Paris on Sunday 16th July.
Flutter is the world's leading online sports betting and gaming company, operating some of the most innovative, diverse and distinctive brands in the sector. For Flutter, it's all about bringing entertainment to life for millions of customers in a safe, responsible and sustainable way. Flutter's sustainability strategy, the Positive Impact Plan, identifies three core areas of focus – customers, colleagues and communities, with a fourth focused on the environment. The Tour 21 and Cure Leukaemia's work to improve treatment and find a cure for blood cancer aligns with Flutter's community based goal to "improve the lives of 10 million people using the power of sport, the skills of colleagues and the reach of the brand by 31 December 2030."
Flutter takes over from fine wine merchants Farr Vintners who have been the headline sponsor of The Tour 21 since 2017.
As the exclusive Official UK Charity Partner of the Tour de France, Cure Leukaemia recently renewed their three-year partnership with the world's most iconic cycling event until 2026 to further their aspirations as the number one charity in the UK for cycling.
Funds raised from The Tour 21 in partnership with Flutter is invested directly into the Trials Acceleration Programme (TAP) network which Cure Leukaemia began funding in January 2020. A team of specialist research nurses and other clinical roles require funding of over £1million each year and facilitate pioneering treatments for blood cancer, a disease that over 250,000 in the UK currently live with and someone is diagnosed with every 14 minutes. The TAP network consists of 15 centres across the UK's biggest cities and covers a catchment area of over 20million people, providing access to potentially life-saving treatments not available through standard care.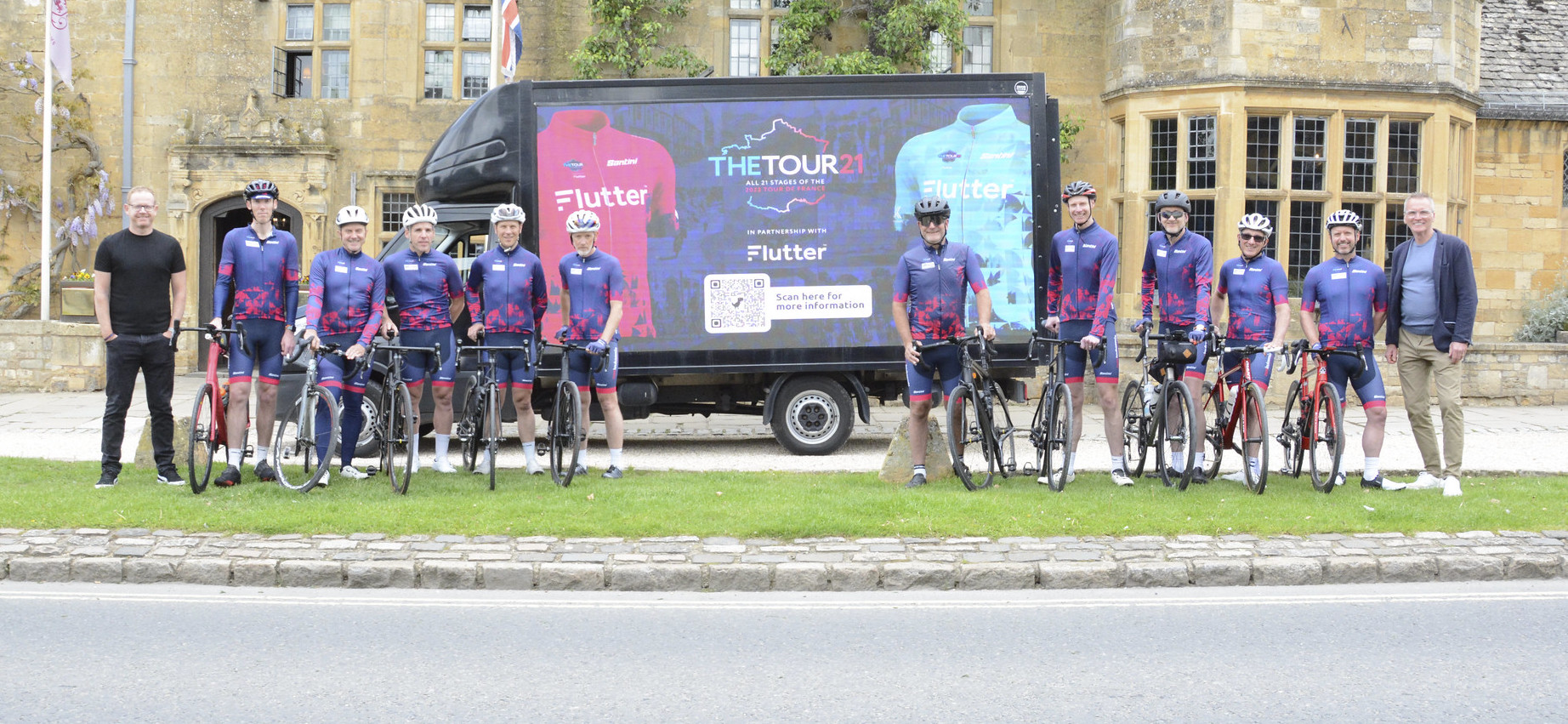 Cure Leukaemia Co-Founder Professor Charlie Craddock CBE is excited about an upcoming trial that Flutter's support will be able to launch:
"Cure Leukaemia has been absolutely pivotal in its support for the UK Haemato-oncology Trials Acceleration Programme trials, which amongst its portfolio of trials, will be delivering the only study in the world examining the benefit of an extremely promising new triplet of non-intensive chemotherapy in comparison with standard intensive in-patient treatment in fit adults with risk Acute Myeloid Leukaemia (AML). The trial will be open to recruitment later this year and will be open across 18 major UK Leukaemia centres, all of whom are very excited to be offering this new therapy to their patients.

"However, it is not just a UK story. The reason the studies come to the UK is largely because of Cure Leukaemia's Trials Acceleration Programme (TAP). The data that we are generating will be shared with colleagues around the world and the new trial is the direct result of a collaboration with world-leading Leukaemia doctors at the MD Anderson Cancer Centre in Texas. So this is a great example about how the UK, through Cure Leukaemia's amazing networks, can deliver groundbreaking treatments for patients at great need of new therapies across the world."
Kerry McNally, Group Head of Communities, Flutter Entertainment commented:
"We're delighted to be working with Cure Leukaemia and supporting The Tour 21. It is an exciting partnership that brings together our passion for sport with our commitment to Do More to support the communities in which we operate. Cure Leukaemia is undertaking transformational trials to help treat blood cancer patients around the world and we could not be prouder to play a role in helping them to eradicate this devastating illness."
Speaking about the new headline partnership, Cure Leukaemia Chief Executive James McLaughlin said:
"I am extremely proud that Flutter have agreed to partner with The Tour 21. Their mission and strategy perfectly aligns with Cure Leukaemia's ultimate ambition to eradicate blood cancer. Flutter as the headline partner of the event, allows us to work with an international organisation alongside our strategic partnerships with A.S.O, Santini, Ribble and NBC Sports to further raise the profile of the event and the charity. It makes a significant difference to the event's fundraising total and the global impact we can make with clinical trials and treating blood cancer patients."