Alex Best has a well organised 'pain cave'.
 "I've got my Zwift trainer and bike, shelving for snacks and sandwiches, a TV and a mat so I don't damage the carpet too much," he laughed. The name of his indoor cycling zone was coined by his girlfriend, Jennifer, Alex explained, who on his recent epic 500km voyage, kept him supplied with sandwiches and sports drinks while he cycled at 20mph across a virtual desert for over 15 hours.
At 5am on a Saturday just before the end of lockdown, he set his trainer for a flat circuit, to watch a computer simulation of a Californian desert, complete with occasional roadrunner scampering by – all in his 'pain cave' in Stocksbridge. The ride was in aid of the Cure Leukaemia charity.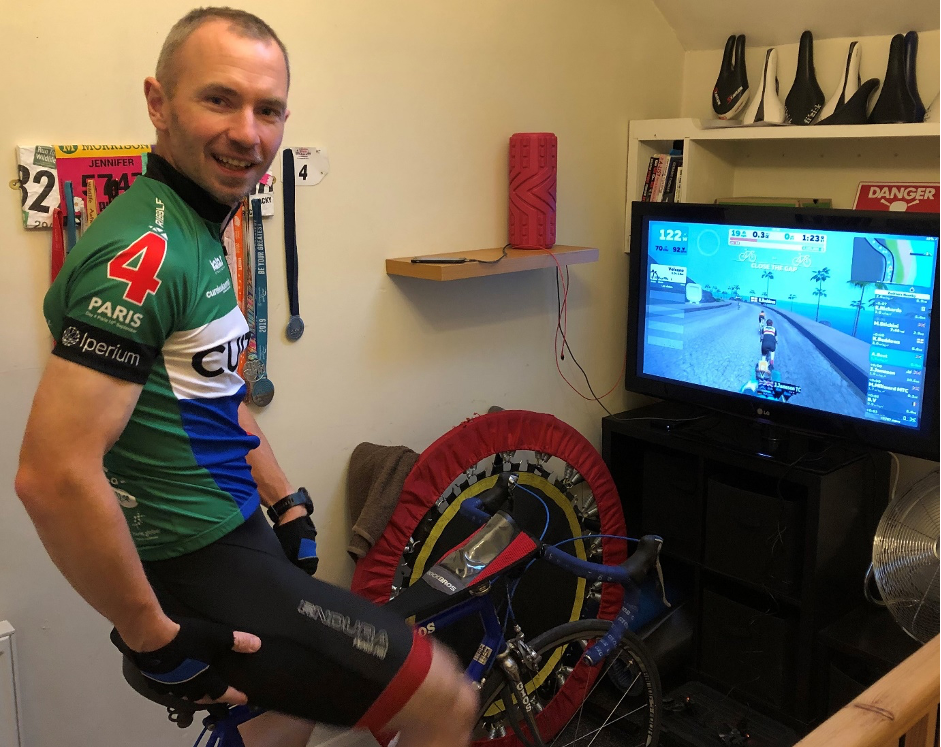 Alex's friend, fireman Adam Joyce, was diagnosed with leukaemia when young, but has fundraised for the research charity after his recovery. Alex's original plan was to cycle the actual London to Paris ride but after the ride's postponement due to Covid 19, Alex decided to ride the distance on his indoor trainer instead – but in one day.
Several cycling colleagues volunteered to accompany him, easing the pain by allowing Alex to 'draft' behind them on the computer set up, making his ride marginally easier. He started the ride with friend David Ward who is planning his own fundraiser for Cure Leukaemia in memory of his mother, Sandy, who died recently after catching the Covid 19 virus. The pair have raised almost £2,000 so far. The challenge took careful preparation.
During his training he'd worked out what he could successfully digest while cycling at speed, so set out a series of oat bars and sandwiches. "At about 200 miles it got mentally tough as I didn't have anyone riding with me, so I could just switch over to watch the news on the TV while I kept going." he said.
As Alex reached the Saturday evening finale, he was joined by two Californian cyclists, offering their praise as he passed the 300 mile mark.
Alex is now considering joining friend David Ward on a virtual 29,000 foot mountain ascent to climb the height of Mount Everest in one day.