BE PART OF AN INCLUSIVE CLUB
Top-class rides, with plenty of laughs, surprises and cake along the way
SIGN UP NOW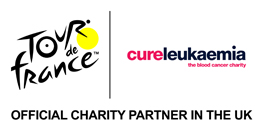 Welcome to the brand-new Cure Leukaemia Cycling Club.
The CLCC is a fun, social and inclusive event-based cycling club, offering the most professionally run cycling events both in the UK and abroad, whilst raising funds for Cure Leukaemia, the national blood cancer charity.
Going that little bit further.
We want our members to carry on supporting their regional cycling clubs, on evening and weekend rides, but then to join us a few times a year to enjoy top-class rides and become a 'Lifesaver' for patients across the UK, with plenty of laughs, beers and cake along the way.
SIGN UP NOW
Keeping you safe in 2021
Places are now open for our events in 2021 and we are more excited than ever to welcome you to the CLCC events. The safety and health of our participants is always our highest priority and we recognise that you may be apprehensive about taking part in group activities, following COVID-19 and government restrictions.
We will adhere to all government and WHO guidelines at the time of the event and we will be taking appropriate precautions to ensure the highest quality of care, support, and comfort for all of our participants.
These protocols will be shared with you well in advance of the ride and will adhere to the measures that are in place at that time. If you have any further questions on this, please email cycling@cureleukaemia.co.uk
Had I been diagnosed with blood cancer 10 years earlier than I was I would not be here now. Thankfully, thanks to charities like Cure Leukaemia I am alive and well and able to take part in the range of fantastic cycling events they organise. I guarantee that if you take part in one Cure Leukaemia Cycling Club event, you will be back for more!

Mark Nicholas
I have taken part in a number of Cure Leukaemia cycling events and they are truly unforgettable experiences! I have made friends for life on these events and can't wait to get back out on the road in 2021! They cater for all levels and abilities and everyone, no matter what standard of cycling, feels part of the family.

Catherine Bennett
When I was diagnosed with blood cancer 5 years ago, I never imagined I would cycle to Paris one day but that's exactly what I did in 2019 for a fantastic charity. Without Cure Leukaemia I would not be here now and working as a haematology nurse on the same floor of the hospital I was treated, and I love giving back to the charity by taking part in their amazing cycling events.

Brooke Evans
When my dad was diagnosed with blood cancer, I wanted to do something to support him. Cure Leukaemia's London 2 Paris event was an amazing experience and one I will never forget. The event is planned so meticulously and runs so seamlessly, all you have to do is worry about getting up the hills! I couldn't recommend their cycling events highly enough.

Faheez Shafeek
My daddy has taken part in lots of cycling events for Cure Leukaemia and I wanted to follow in his footsteps by doing my own cycling challenge during lockdown. I really enjoyed it and can't wait until I'm a bit older and can take part in proper events for Cure Leukaemia.

Noel Short
I've seen Cure Leukaemia grow as a charity ever since I became involved back in 2015 and it is amazing to see the impact it is having across the country. Now, more than ever before, the nurses Cure Leukaemia fund are so vital for blood cancer patients and that's why as a proud Patron of the charity I am keen to raise national awareness that funding more nurses, allows more clinical trials to be run and ultimately helps save more lives. Not only this, but I am lucky enough to taken part in a number of their cycling events which can only be described as EPIC!

Ben Foster

Watford FC Goalkeeper and The Cycling GK